Dedicated Servers & Colocation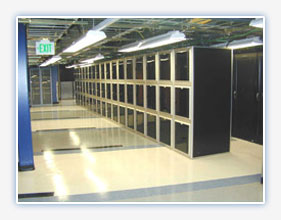 Our standard dedicated server platform is a high-performance, 1U or 2U high Supermicro chassis with your choice of processors such as Intel Dual-core and single or dual Intel Xeon. We have dedicated servers available from 4GB of RAM to 512GB of RAM. All of our dedicated servers have switched 1Gbps (1Gbit) Ethernet connections. Customized configurations are available with larger amounts of RAM or 10Gbits network. We can also colocate your provided hardware. Other dedicated server hardware configurations are available.
All our Dedicated Servers are monitored for availability (pinged every 5 minutes). In the event that your server goes down, you will be paged and/or e-mailed at the same time as our NOC. This web-based system can also give you uptime statistics and you can review historical monitoring data for your servers. We can also monitor network-based services such as HTTP, HTTPS, FTP, SMTP, POP3, DNS, and others on your server for availability.
Web-based Availability, Performance & Bandwidth Monitoring
Each and every switch port on our network is monitored for bandwidth, errors, discards and other anomalies. You have 24×7 web-based access to graphs that detail your bandwidth utilization by speed, and data transfer over time. You can also monitor your server health (CPU, disk use, memory, disk I/O, system load average). As an additional service, we can set alerts for you if thresholds are exceeded.
Our facilities are staffed 24×7 and serviced with redundant air, power and network systems. We share the facilities with some of America's top financial institutions, government and defense contractors, biotech and research organizations, hosting companies and network security companies.
What sets us apart from all the others…
Our network's lightning-quick, punchy response to almost anywhere is ensured by InterNAP's Flow Control Platform technology. The InterNAP Flow Control Platform (InterNAP FCP) monitors all of our multi-gigabit carrier connections for latency, jitter, packet loss and handshake round-trip time, BGP blackouts and more, for each destination network, then routes your traffic though the fastest and most reliable backbone to that specific destination network. The selected route used for each communication will be the fastest of any of our direct connectivity to Level 3 Communications, XO Communications, Cogent, and American Internet Services.
This solution increases performance by greater than 50% over regular BGP solutions. Standard BGP does not have any metric for performance and can not make route changes based on performance information like our network can. There just isn't a better network in San Diego.
Additional services such as premium whole disk backups, managed or un-managed firewall services and server load-balancing are available for an extremely competitive additional cost.
We are proud of our solid performance and availability! See our actual network availability statistics here.
Standard Features On All Dedicated Servers
Premium Network Data Transfer Included
2-3TB/mo
Network Port Speed
100Mbps
Your actual max burstable speed
100Mbps
Included IP addresses
1
Additional IP addresses with justification
up to 32
Cost of additional IPs with justification
up to 8 Free
Temporary use of KVM over IP
Free
24/7 Web-based Server Reboots
Free
Unlimited "root" user privileges
Included
Server Monitoring (i.e. ping) with Customer Paging
Free
Service Monitoring (i.e. HTTP, SMTP, etc.) with Customer Paging
Free
Actual Traffic Utilization Graphs
Free
Operating Systems
Custom initial OS installation
Free
CentOS
Free
Fedora
Free
OpenBSD
Free
FreeBSD
Free
Debian
Free
Ubuntu
Free
OpenSUSE
Free
Windows 2008
$15/mo
Data Center and Network
Network Uptime Guarantee
99.9%
Redundant Power Grid supplies
✔
2 Megawatt Battery Backup (UPS)
✔
2 Megawatt Diesel Backup Generator
✔
Triple Redundant Chillers
✔
Multi-Gigabit carrier connections
6
BGP + InterNAP FCP Route Optimization
Included
Support
Fast Response Email Support
24hrs
"Remote Hands" (reboots, KVM, etc.)
24hrs
Options
3ware Hardware RAID(RAID 0, RAID 1, RAID 0+1 / RAID 10)
$14/mo + up
Server Load Balancing
$40/mo + up
Dedicated Firewall Service
$75/mo + up
Data Backups (NAS, unmanaged)
$5/mo + up
Data Backups (R1Soft CDP Backups)
$50/mo + up
Premium Rack Option – FREE
Gigabit Network Switch Port Speed
✔
Switched Power Outlets(web-based instant server reboots)
✔
SNMP Server Performance Metrics and alerts – (CPU, disk, I/O, Load Avg, Mem)
✔
We have systems standing by for you to move into quickly. Be up and running in a few hours. 95% of orders are completed within 24 hours. All prices are monthly, and services are provided monthly, unless other arrangements are made.
If you have questions, need a special configuration, or just want to know there are humans here, please contact us before you buy.