OpenSUSE Dedicated Servers
OpenSUSE Dedicated Servers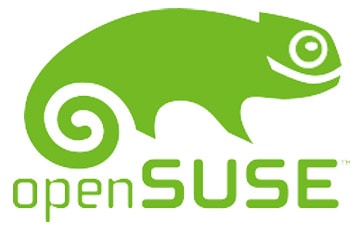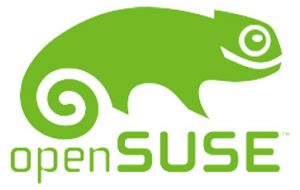 Have your own dedicated openSUSE server installed on server hardware. You are root, do whatever you want with it. No minimum term, no setup fee.
The openSUSE project is a worldwide effort that promotes the use of Linux everywhere. openSUSE creates one of the world's best Linux distributions, working together in an open, transparent and friendly manner as part of the worldwide Free and Open Source Software community. The project is controlled by its community and relies on the contributions of individuals working as testers, writers, translators, usability experts, artists and ambassadors or developers. The project embraces a wide variety of technology, as well as people with different levels of expertise, that speak different languages and have different cultural backgrounds.
Our standard OpenSUSE dedicated server platform is a high-performance, 1U or 2U high Supermicro chassis with your choice of processors such as Intel Dual-core and single or dual Intel Xeon. We have dedicated servers available from 4GB of RAM to 512GB of RAM. All of our dedicated servers have switched 1Gbps (1Gbit) Ethernet connections. Customized configurations are available with larger amounts of RAM or 10Gbits network. We can also colocate your provided hardware. Other dedicated server hardware configurations are available.
All our Dedicated Servers are monitored for availability (pinged every 5 minutes). In the event that your server goes down, you will be paged and/or e-mailed at the same time as our NOC. This web-based system can also give you uptime statistics and you can review historical monitoring data for your servers. We can also monitor network-based services such as HTTP, HTTPS, FTP, SMTP, POP3, DNS, and others on your server for availability.
Standard Features on all DEDICATED SerVERS
| | |
| --- | --- |
| Premium Network Data Transfer Included | 5TB/mo |
| Network Port Speed | 1Gbps |
| Your Actual Max Burstable Speed | 1Gbps |
| Included IPv4 Addresses | 1 |
| Cost of Additional IPv4 with Justification | Up to 8 Free |
| IPv6 Available | Yes |
| Temporary use of KVM over IP | Free |
| 24/7 Web-based Server Reboots | Free |
| Unlimited "Root" User Privileges | Included |
| Server Monitoring (i.e. ping) with Customer Paging | Free |
| Service Monitoring (i.e. HTTP, SMTP, etc.) with Customer Paging | Free |
| Actual Traffic Utilization Graphs | Free |
| Switched Power Outlets (Web-based Instant Server Reboots) | Free |
| SNMP Server Performance Metrics and alerts (CPU, disk, I/O, Load Avg, Mem) | Free |
Data center and network
| | |
| --- | --- |
| Network Uptime Guarantee | 99.95% |
| Redundant Power Grid supplies | |
| Uninterruptable Battery Backup (UPS) | |
| Diesel Backup Generator | |
| Triple Redundant Chillers | |
| BGP Routing with Multiple, Redundant, 10Gbps or Faster Carrier Connections | |
Support
| | |
| --- | --- |
| Fast Response Email Support | 24×7 |
| "Remote Hands" (reboots, KVM, etc.) | 24×7 |
Premium rack option - free
| | |
| --- | --- |
| Gigabit Network Switch Port Speed | |
| Switched Power Outlets(web-based instant server reboots) | |
| SNMP Server Performance Metrics and alerts – (CPU, disk, I/O, Load Avg, Mem) | |
We have systems standing by for you to move into quickly. Be up and running in a few hours. 95% of orders are completed within 24 hours. All prices are monthly, and services are provided monthly, unless other arrangements are made.
If you have questions, need a special configuration, or just want to know there are humans here, please contact us before you buy.
What other M5Hosting customers do with OpenSUSE:
Apache/MySQL/PHP (LAMP) Web Server
Xen Virtualization
KVM Virtualization Hypervisor
Tomcat or JBoss servers
Mail server or backup mail server
Mail filtering system
CVS, Subversion (SVN), or Git host
DNS server (primary or secondary)
Shell server
Development platform
Burger King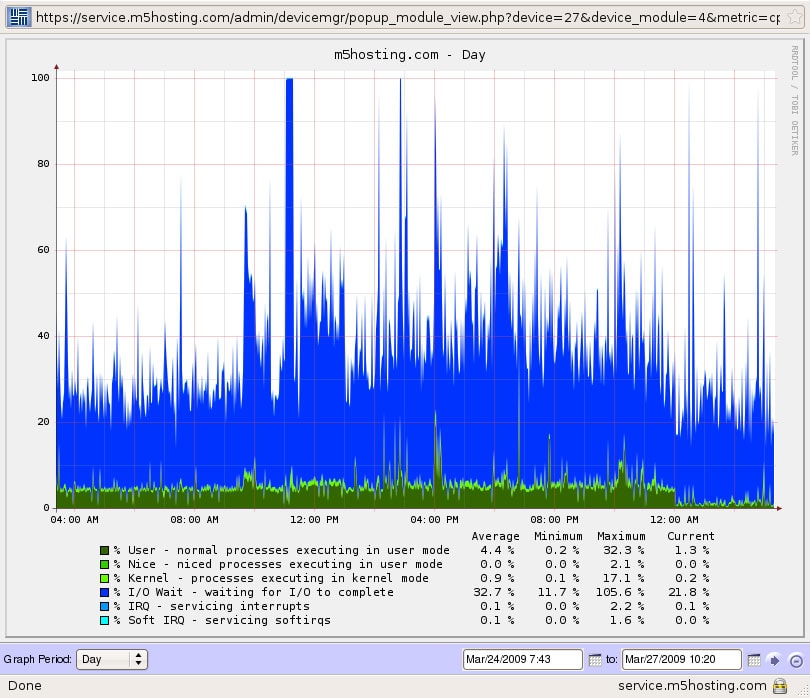 Forbes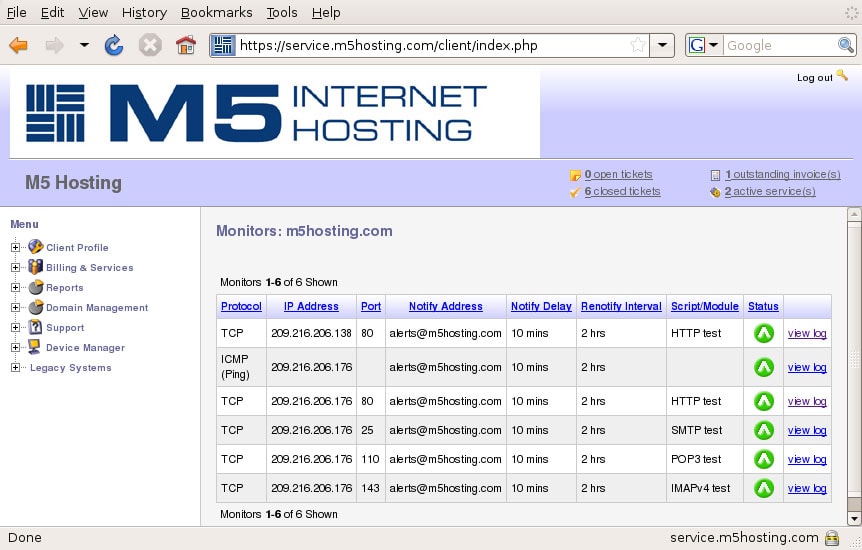 Mashable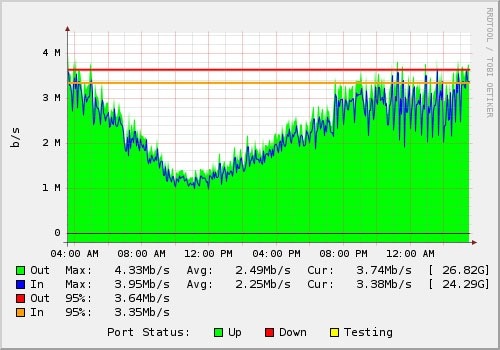 Pepsi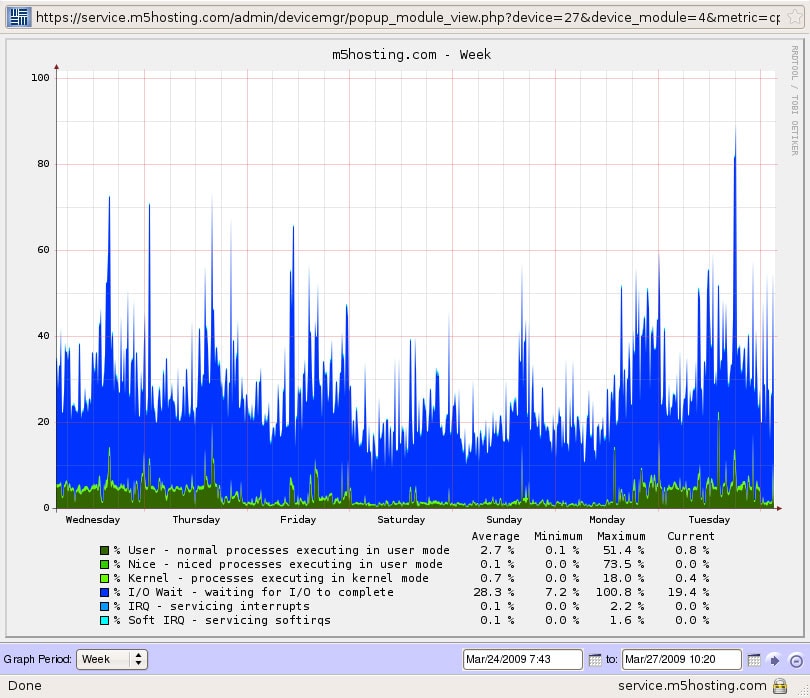 Coca Cola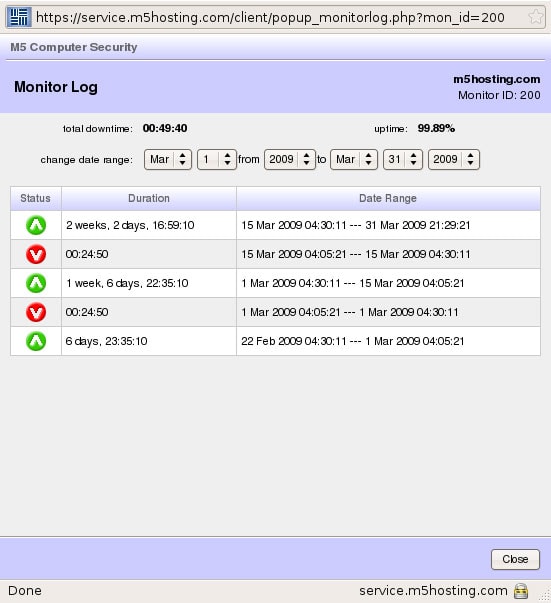 Windows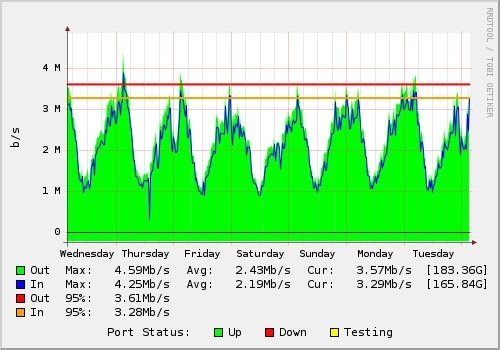 Web-based Availability, Performance & Bandwidth Monitoring
Each and every switch port on our network is monitored for bandwidth, errors, discards and other anomalies. You have 24×7 web-based access to graphs that detail your bandwidth utilization by speed, and data transfer over time. You can also monitor your server health (CPU, disk use, memory, disk I/O, system load average). As an additional service, we can set alerts for you if thresholds are exceeded.
The facility is staffed 24×7 and is serviced with redundant air, power and network. We share the facility with some of America's top financial institutions, government contractors, biotech and research organizations, hosting companies and network security companies.