Munich, Germany
Data Center
M5 Hosting Data Centers:
MUNICH, GERMANY DATA CENTER
This 22,173 square-foot (2,060 square-meter) facility is centrally located in one of Germany's most important banking and insurance industry hubs. The region is also home to thriving automotive, Internet, digital media and electronics industries. Companies in these sectors rely on the Equinix colocation facilities in Munich to make highly reliable, low-latency connections with business partners and customers locally, nationally and internationally.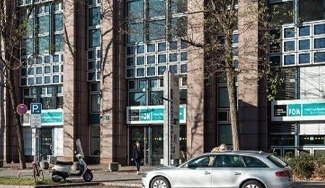 Equinix MU3 (MU3) M5 Cloud Zone MU1
Data Center Space
Built-to-spec private colocation cages
Locking colocation cabinets (Full cabinets only)
Shared cabinet space in 1u increments
Roof rights with excellent line-of-site
Cooling Systems
Full data-grade HVAC with N+1 redundancy
Temperature controlled between 18 C (64.4 F) and 27 C (80.6 F).
Humidity controlled between 25% and 65%.
Certification and Sustainability
SSAE16/ISAE3402 SOC-1 Type
ISO 27001
PCI-DSS
FACT
ISO 9001
Green By Design with 100% renewable energy through utility green program
Fire Detection and Suppression
VESDA system (Very Early Smoke Detection Apparatus)
Network Connectivity
Carrier-neutral
M5 Hosting network upstream providers at this location: Level 3 Communications, Cogent.
Multiple fiber providers on-site including: Level 3 Communications, Cogent Communications, Vodafone Carrier Services, Hurricane Electric, COLT TECHNOLOGY SERVICES, Interoute Communications, euNetworks, MESH GMBH, DE-CIX, M-net Telekommunikations GmbH DE, BROCADE COMMUNICATIONS, EWE TEL GmbH, GasLINE GmbH & Co., KG Net-D-Sign GmbH
Physical Security
24x7x365 on-site security staff
Camera with remote door release at facility entrance — only authorized personnel are allowed to enter
Biometric hand scanner at man trap entrance
Card access control at all interior doors
CCTV digital surveillance cameras with 90 day data retention
Power Systems
Dual utility feeds
N+1 UPS power plants
A/B, 230/400v, Single-phase/Three-phase circuits available
N+1 emergency generator power
Four 2,000 kVA diesel generators
Client Support Services
24x7x365 on-site support staff
Remote hands services
Shipping and receiving with loading dock